Welcome to the Website of the Scientific Society for Homeopathy!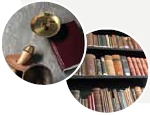 Assess existing knowledge – create new knowledge.
Develop innovations in education and training.
Establish homeopathy in academic discourse.
Scientific Society for Homeopathy
With WissHom, the infrastructure for an active research landscape is to be created and fostered. The WissHom council cordially invites you to participate in the scientific discussion of homeopathy!

Departments
The work of the Scientific Society for Homeopathy (WissHom) takes place in its departments. The departments are coordinated by their speakers, who are members of the WissHom council.

Members
You are interested in a WissHom membership?

WissHom-Congress ICE
Since 2001 the International Coethen Exchange of Experiences (ICE) has been held regularly in Köthen (Anhalt). The first ten ICE congresses took place under the umbrella of the former European Institute of Homeopathy (Europäisches Institut für Homöopathie – InHom). Since ICE 11 the congress has been taking place under the auspices of WissHom.  Please read more …

Publications
The ICE Congress Proceedings are published under the aegis of WissHom. The materials relevant to the Summer Course on the History of Homeopathy are available in the internal area.

Homeopathic Library Hamburg
The Homeopathic Library Hamburg (HBH) has been under the legal responsibility of the Scientific Society for Homeopathy (WissHom) since January 1, 2014. It is located in the atrium of the Carl von Ossietzky State and University Library and is available to the public. Learn more …