Welcome to the website of the Homeopathic Library Hamburg (HBH)!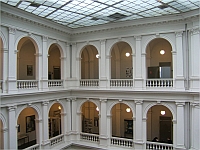 The Homeopathic Library Hamburg (HBH) – Wolfgang-Schweitzer-Library is located in the atrium of the Staats- und Universitätsbibliothek Carl von Ossietzky and is open to the public. After the HBH was located under the roof of the DZVhÄ together with the European Library for Homeopathy Köthen (EBH) until the end of 2013, it has been under the legal responsibility of the Scientific Society for Homeopathy (Wissenschaftliche Gesellschaft für Homöopathie – WissHom) since January 1, 2014.
Through integration and networking at the site, the Homeopathic Library Hamburg (HBH) benefits from the good cooperation with the neighbouring libraries.
Furthermore, there is access to the extensive electronic online media of the State and University Library. It is also connected to the interlibrary loan system of the Common Library Network (GBV) via this network. It is used by various university disciplines and thus creates a hub for scientific exchange.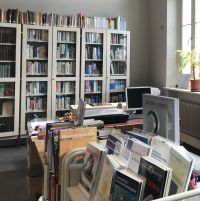 The focus of the Homeopathic Library Hamburg (HBH) is on inventary, expert advice on site, the processing of research assignments and future-oriented and interdisciplinary cooperation at the university level of a state library.
Since the HBH was threatened with closure in autumn 2012 for financial reasons, the Friends of the Homeopathic Library Hamburg (fHBH) was founded in February 2013 to ensure its continued existence.
---
Please read more about the HBH on the German website …
---